Gaula – River of Silver & Gold
Produced by Daniel Göz and Anton Hamacher
Post-production: G+K Film
Film (DVD) review by Henry Giles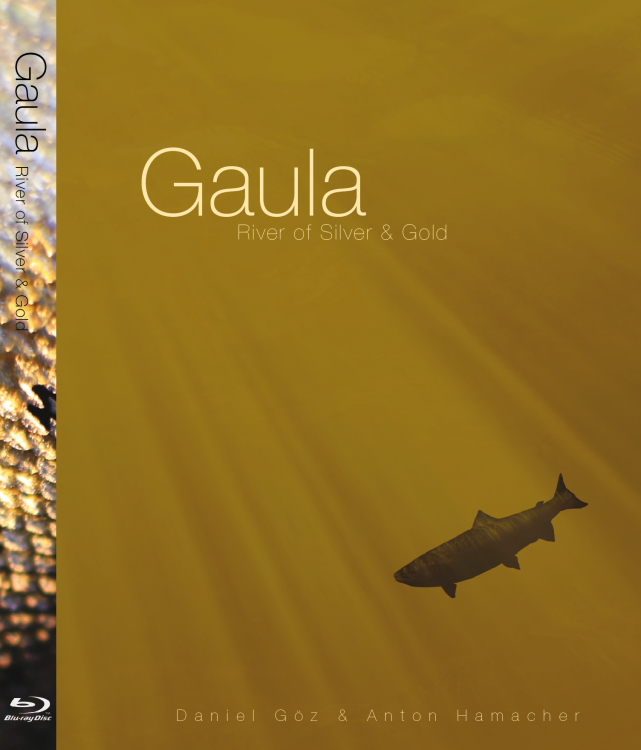 "In the end, our society will be defined not only by what we create but by what we
refuse to destroy"
THE STALL OF Gaula – River of Silver & Gold is set with this quote that is as green-tinged as the waters of Norway's A-list salmon river the Gaula, and from the first shots – not salmon but close-ups of beautiful flora of the Trondelag in summer – you know that this is not just another fishing movie.
Instead, here is a cinematic celebration of flyfishing on the Gaula but with multi-award-winning Daniel Göz on the first (and underwater) cameras, a man who shares weeks of the rest of his year with BBC/Animal Planet, you are in for such treats as soaring (and edge-of-the-seat low-level) aerial views and spectacular underwater footage of spawning salmon.
And the entire film is shot, edited and mastered in true full HD resolution ('Gaula' is billed as technically the most advanced flyfishing film to date). Entirely shot with Canon DSLRs, mostly Canon's 5DII, it's no wonder the movie is so compelling to watch. And if that's not enough, a custom-built oktocopter with a five-foot wingspan and suspended Canon DSLR was used to achieve the surreally gorgeous aerial images, many taken flying along for quarter of a mile a matter of feet/inches above the surface of the river in a dramatic and breathtaking twist. For the underwater images a Canon 5DII was used in a futuristic Subal housing.
Now I'd better admit something here. By great good luck I stumbled into the making of 'Gaula' while fishing the last full week of the season with the Norwegian Flyfishers Club last summer. I got to meet Daniel and Anton, stay the first night of my week in their house where I was among the first to view their embryonic trailer, and when they turned up on the bank four days later and my rod was bouncing to a 12lb salmon, was able to play a role in the film as I held my fish underwater in front of that 5DII in its clear plastic Subal housing.
But what a film it is and when the DVD dropped on my doormat this morning (following the world premiere in Germany last Saturday) I was almost beside myself with excitement as I gunned up the big screen and the volume.
After sensational wildlife footage in the opening sequence, came the aerial shots. Upstream over the Home pool, Maela and NFC's beat A1. Then an airborne huge panorama of Tilseth run, Renna and Langoy (a roll call of legendary middle Gaula salmon pools) in the distance, all to a heart-thumping soundtrack.
The voiceover is compelling and philosophical in a way that gels completely with the images. Echoes of Norman Maclean's A River Runs Through It entered my head at times: "The angler has to develop a sense of the river's flow and ever-changing rhythm…"
Or how about NFC chairman Manfred Raguse (subject of a mini bio in the film that is fascinating as a portrait of one man and his love of a river over decades), here as he releases a salmon: "You release it and you are a very happy man because it is a great adventure and a great feeling when you release such a big fish."
Or philosophy: "Many men go fishing all their lives without knowing it is not the fish they are after…" (The words of Henry David Thoreau.)
And then there is the time-lapse photography – this is used to sensational and original effect, with Anton fishing down the Home pool time-lapsed into a 40 second sequence. Skyscapes and sunsets filmed in the sub-arctic summer but also in autumn, vivid with gorgeous colours, are time-lapsed into something even more special as the clouds scud like flecks of wind-blown river-foam over the screen.
Manfred engages at length to camera with a nod to the oracle of salmon conservation, Orri Vigfusson, who helped buy out the nets in the Trondheim fjord, and tells the story of the stopping of the in-river nets in the late Seventies.
This is a film for all seasons with footage shot of salmon spawning long after the season ends and even with a sequence taken the following spring of hatched fry.
But back to the heady season of 2011 and Anton, with his Orvis Helios rod catches fish after fish, casting sublimely, ties flies in what is a favourite sequence with an achingly beautiful through-window shot in the half-light laden with atmosphere. He even helps a fish stranded in an ox-bow by the '100 years flood' that occurred a week before my visit. A hilarious yet wonderful act of conservation and salvation but I won't tell you how it ends..
You'll have to see the film for yourself and believe me, you have a treat in store.
Gaula – River of Silver & Gold is available as: – SD PAL DVD – SD NTSC DVD – True Full HD Blu-ray
Buying details via the URL www.gaulathemovie.com